Description
Mata Vaishno Devi Temple dedicated to Maa Durga in the form of Vaishno Devi is the second most visited pilgrimage destination in India. It is located in the Trikuta Hills in Katra, Jammu & Kashmir. It is one of the most visited pilgrimage centers of India. Every year millions of visitors visit the temple. Mainly during the festivals like Navaratri, the count even increases to one crore visitors. Vaishno Devi Temple is also one of the richest temples in India. It is said that the temple has an annual income of about $16 million, mainly from the offerings by devotees.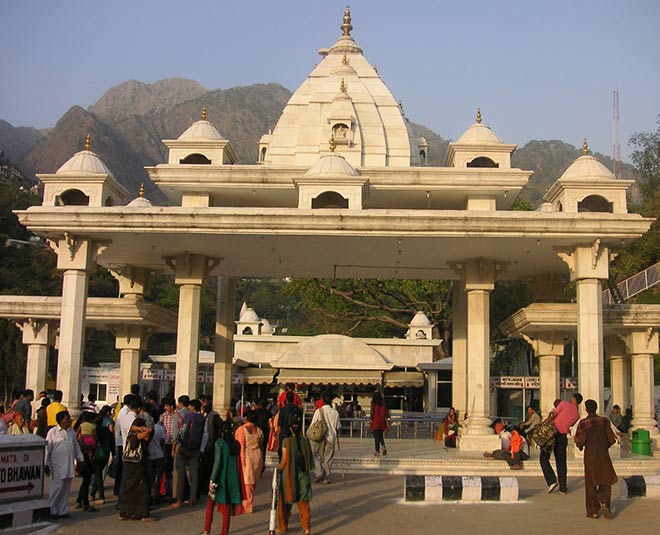 Legend-
Legend says that this religious site is regarded as the most important Shaktipeeth out of 108 Shaktipeethas. It is believed that here the skull of the Goddess Sati fell.
History Of Vaishno Devi Temple
The pious cave of Mata Vaishno Devi is believed to have been discovered by a Hindu priest named Pandit Sridhar. Goddess Vaishnavi appeared in the priest's dream and told him about how he can find her abode on Trikuta Hills. The priest followed her instructions and started his journey and finally found the cave as instructed earlier. Mata Vaishno Devi appeared in front of him and blessed him with four sons. She also gave him the boon of being the custodian of the cave. Even today, Pandit Shridhar's descendants abide by the commitment.
Deities-
There are 3 main deities or forms of Vaishnodevi worshipped in the temple— Mahasaraswati, Mahakali and Mahalakshmi. The feet of the idols are washed by the water brought from the perennial flowing river Banganga.
Festivals of Vaishno Devi Temple
The most important festival of Vaishno Devi Temple is Navratri, a festival of nine nights which celebrates the victory of Devi over evil demons. The Navaratri is celebrated during the month of Ashvin, which typically falls in the Gregorian months of September and October. Another prominent festival celebrated is Diwali, a festival of lights symbolizing the victory of light over darkness, good over evil, and knowledge over ignorance. Devotees of all faiths and all schools of thought of Hinduism visit the Vaishno Devi Temple whenever they get a chance to do so.
About Dev Darshan
DevDarshan is a spiritual platform launched by IIT graduates to promote the teachings of Indian culture and the Hindu way of life in India around the world. In the 21st century, where everything around is digitalized then why not temples. That's the idea behind DevDarshan. With DevDarshan, you can now offer prayers, watch live pujas and get Prasad all via an online mode. That's even safe for all of us, considering the present state of pandemic.
To know more about us, please install the DevDarshan app and visit our YouTube channel.
Also read, Kalighat- Lesser Known Facts