The Hindu scriptures state that 'Gurubrahma, Gururvishnu, Gurudevo Maheshwara'. This means that a Guru has the same importance in a student's life as Lord Brahma, Vishnu or Mahesh. The word Guru is derived from the Sanskrit word which is an amalgamation of two words. The word 'gu' means darkness or ignorance and the word 'ru' means light or knowledge. So a Guru is a spiritual leader, teacher or guide, who takes you on the path of enlightenment. And, the day of Guru Purnima Utsav is dedicated to thanking and being grateful to our spiritual masters and other people who have guided us directly or indirectly in our lives in the form of Gurus.
This year, Guru Purnima 2023 falls on July 3, Monday. Guru Purnima falls on the full moon day in the month of Ashadh. It is also referred to as Vyas Purnima. 
When is Guru Purnima 2023
In the year 2023, the festival of Guru Purnima will be celebrated on Monday, July 3, 2023. It is believed that Lord Veda Vyas was also born on this day. He had written many Hindu scriptures and epics including Mahabharat.
Guru Purnima 2023: Date And Time
Date: Monday, July 3, 2023
Tithi Timings:
Purnima Tithi Begins: 08:21 p.m on July 02, 2023
Purnima Tithi Ends: 05:08 p.m on July 03, 2023
Importance of Guru Purnima 
Guru Purnima is a day of gratitude towards someone special to give us any kind of guidance along with our spiritual knowledge. Guru has special importance in our Sanatan Dharma. In India, from time immemorial, learners used to go to Gurukul to study. It is said in our Vedas and Shastras that the place of mother, father, and guru is above the gods. No one can progress in their life without a Guru. Most people worship their spiritual master on the day of Guru Purnima. In Buddhism also, the Guru Purnima festival is celebrated with great pomp.
On this Guru Purnima 2023, if you do not have any spiritual guru, then you can also worship Lord Shiva and Lord Krishna as spiritual gurus. Before knowing how to worship Guru Purnima (Guru Purnima puja vidhi), know the history of Guru Purnima.
Importance of Worshipping Lord Shiva through Rudrabhishek Puja
History of Guru Purnima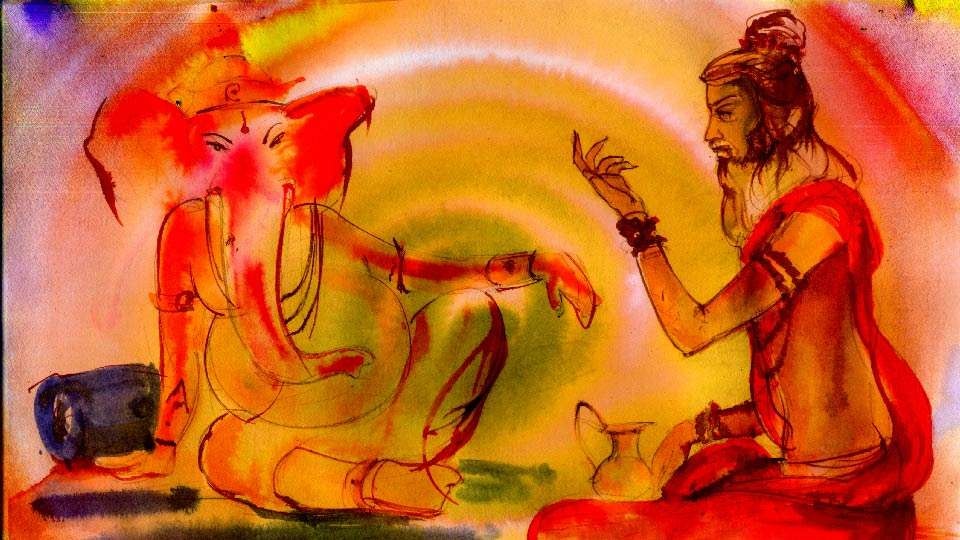 Guru Purnima is celebrated to commemorate the birth of Lord Ved Vyasa, the author of various Vedas and many Hindu scriptures. As per Hindu Mythology, it is believed that on this day, Lord Shiva transferred his special knowledge to seven sages or 'Saptarishis'. Therefore, he came to be known as a Guru. Lord Shiva is referred to as the originator of all Knowledge, Wisdom, and Vedas on earth. Therefore, Guru Purnima is observed to honour the valuable teachings of Lord Shiva and his seven followers. According to Buddhism, Lord Buddha also gave his first sermon on this day at Sarnath and the day of his birth, enlightenment and salvation is celebrated as Buddha Purnima.
Let's know how to celebrate Guru Purnima 2023 and how to conduct the Puja on this special day.
How to Celebrate Guru Purnima (Puja Vidhi)
On Guru Purnima 2023, all the students should visit their gurus or teachers and seek their blessings.

The students should also take a vow to never deviate from or disobey the teachings of their spiritual masters.

If the spiritual master or any student is not alive, then he or she should go and offer a wreath to their samadhi or visit any temple of Guru Veda Vyas.

If a student doesn't have any Guru, then he/she should visit the temple of Lord Shiva and perform a Jalabhishek to express gratitude to Lord Shiva for giving us security and wisdom in life. One can also perform Rudrabhishek Puja to offer prayers to Lord Shiva.

The students should also chant or recite mantras related to Lord Vishnu or Lord Shiva and worship them seeking guidance in life.

Some students chant the Vishnu Sahastranama or Guru mantra at least 108 times since it's considered very auspicious. 

The students also perform Guru Purnima Puja, meditate for at least 15 minutes, and perform Mangal Aarti for their Gurus. This helps the students to calm their minds and gives them the power to remember and follow the teachings of their Gurus.

On Guru Purnima 2023, one should also take a pledge to do one act of kindness every day. Chaturmas starts on this day, so one must also pledge to follow the traditional rules and regulations of the Chaturmas period. 
Some Astrological Remedies for Guru Purnima 2023
On Guru Purnima 2023, know some special astrological remedies which will help fill your life with positive energy.
If you are going through the Mahadasha, or the malefic effects of the planet Jupiter, then you must take the blessings of your Guru on Guru Purnima and chant any mantra of Jupiter.

Venus is also revered as a demon guru. Venus is believed to rule our love and luxury life. If you have financial problems or love life issues, then chanting the mantra related to Venus (Shukra Grah) can be very helpful. It is considered very auspicious to start the chanting of the mantra from Guru Purnima.
Suffering from Shukra Grah Dosha? Know How to Perform Shukra Grah Shanti Puja
Purnima is a festival associated with the moon. If you are mentally disturbed due to any reason, then you should definitely offer water and milk to the moon after the moonrise on this Guru Purnima 2023. The devotees should also chant Om Namah Shivaya while making the offer.
Check out various Online Puja and services provided by DevDarshan here and get your bookings done in one click. If you want to know more about Indian culture, Indian Temples, Pujas and festivals, then download the DevDarshan App. Don't forget to share this blog if you liked it.
Also Read, Hariyali Teej 2023: The festival following Guru Purnima